5 Holiday Gifts Your Sisters Will Love
5 Holiday Gifts Your Sisters Will Love
Stuck for gift ideas for your sorority sisters, family, or need ideas for yourself? Buy them something sorority themed from Sorority Specialties. After all, that's how you girls became sisters and bonded. With gifts starting at just $8 there's something for everyone, whether it's a stocking stuffer, group chapter order, or big gift. If you're not buying but the one wanting something from this list, create a wishlist on Sorority Specialties and email it to who you want to buy it for you to avoid getting that ugly holiday sweater or end up re-gifting which is always awkward.
5 Holiday Gifts For Your Sisters
1. Corded Crew $65
Trending!!! This sorority corded crew sweatshirt is our 2018 best seller. This light blue sweatshirt has your sorority and the year it was established printed across the front. This new vintage design makes showing off your sorority easy. Make it street style worthy with black leggings and booties or knee high flat boots, much better than a sisters hand-me-down!
2. Sherpa $65
Get cozy in this gray sherpa with your sororities Greek letters embroidered on the front. This gorgeous grey quarter zip sweatshirt is almost silver in color and super soft. The best sweatshirt for staying warm all winter long.
3. Striped Sweatshirt
I think we all know what iconic sports brand this looks like! This black and white sorority crewneck sweatshirt is inspired by Adidas with it's white fabric stripes sewn down each arm and your sorority printed across the front. You can never go wrong with this sporty, black and white classic combo. All of Sorority Specialties clothing is Greek licensed and approved by each sororities headquarters.
4. Gold Sorority Script Necklace $25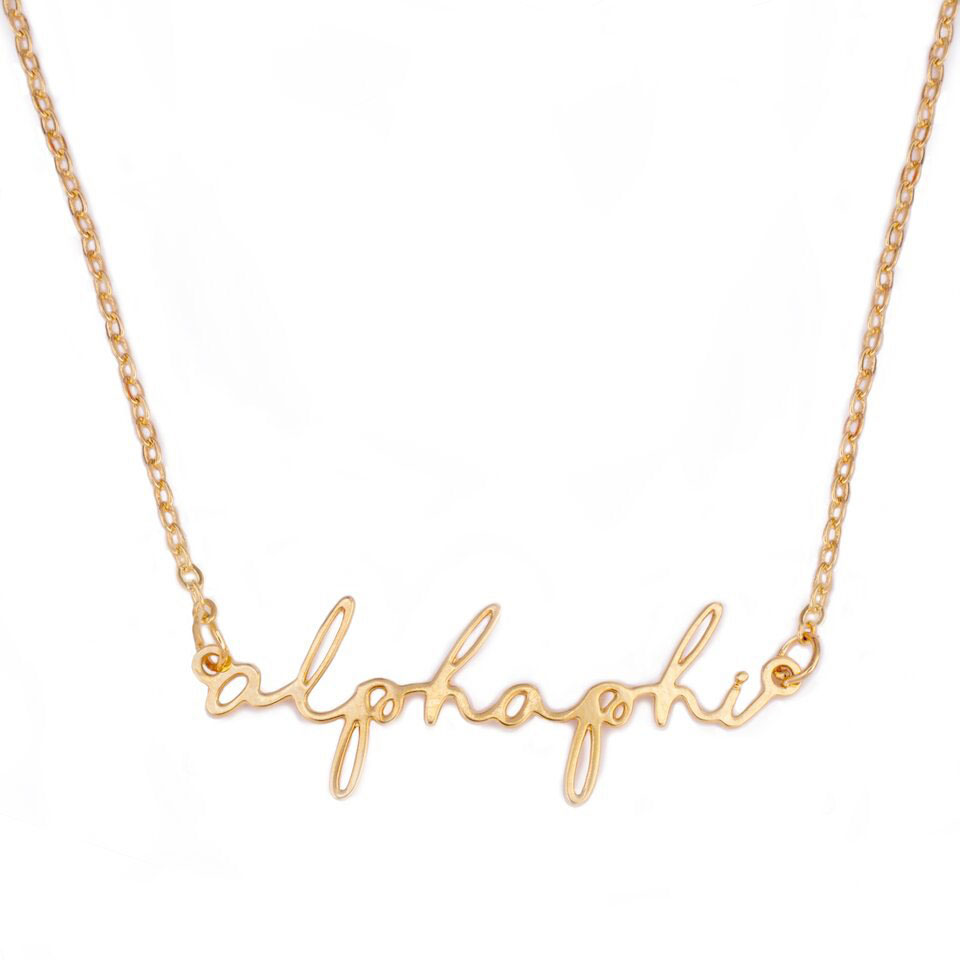 The classy way to wear your letters. Wear this gorgeous necklace and show your sorority love or give as a thoughtful gift to your Lil.
Alpha Chi Omega Script Necklace
Gamma Phi Beta Script Necklace
Kappa Alpha Theta Script Necklace
Kappa Kappa Gamma Script Necklace
5. Sorority Smart Wallet Mobile Card Holder $8
The sorority smartphone wallet with your sorority name and logo allows for maximum security and convenient storage while keeping the slim, sleek shape of your device. One size fits all phones on as it simply sticks on with it's 3M adhesive (which is removable without leaving a mark). Leave your oversized purse at home and use this mobile card holder to keep your cards, ID, and some cash safe and always on you while showing your sorority spirit.
Alpha Phi Smart Wallet Mobile Card Holder
Alpha Chi Omega Omega Smart Wallet Mobile Card Holder
Delta Gamma Wallet for Cell Phones
Gamma Phi Beta Smart Wallet Mobile Card Holder
Kappa Alpha Theta Smart Wallet Mobile Card Holder
Kappa Kappa Gamma Smart Wallet Mobile Card Holder

For the full holiday gift guide with hundreds of items including jewelry, stickers, accessories, and clothing check out our Gift section. They don't have to be just for the holidays; they make great birthday and graduation presents too. Don't wait until last minute, beat the holiday shipping rush and order today!