7 Cute Gifts for Sorority Littles
Getting your Little is exciting! Remember how you felt when you got showered by your Big? Now, it's your turn to buy gifts for your Little but choosing the right present and trying to keep within a budget can be tough. Online shopping gives us so many choices it can be hard to decide where to start. Sorority Specialties has rounded up the best of the web to create a list of 7 cute gifts for sorority Littles that won't break the bank, are thoughtful, and are sure to get a ton of use while helping your Little settle into college life.
Presents Your Little Sister is Sure to Love
iStudiez Pro
College is a whole new world. Trying to plan your schedule around classes, studying, and Sorority events and socials is exhausting. Help your Little get organized with a college planning app. This app manages your class schedule, teacher contacts, and upcoming assignments/tests with a school-specific calendar app and to do list all rolled into one.
Sorority Specialties Vintage Ringer Tee
More modern than the Block Letter Tees of the past; this retro vibe tee is a great way to start off their Sorority wardrobe and looks great with cut-off shorts or jeans.
Personalized Photo Frame
Having something personal makes a dorm room feel like home. A photo frame you've customized shows you care; there's tons of inspo on Pinterest. If you have a pic of you and her or the chapter go ahead put that in, or leave it blank and let her start creating and displaying her own memories.
Customized Flip Flops
Get your Little a cute pair of flip flops to wear to, from, and in the shower to keep her feet off of the floor. Etsy has a ton of cute ones starting around $11 for monogrammed ones (use your Sorority letters or hers) and $18 for Swarovski covered.
Gold Sorority Script Necklace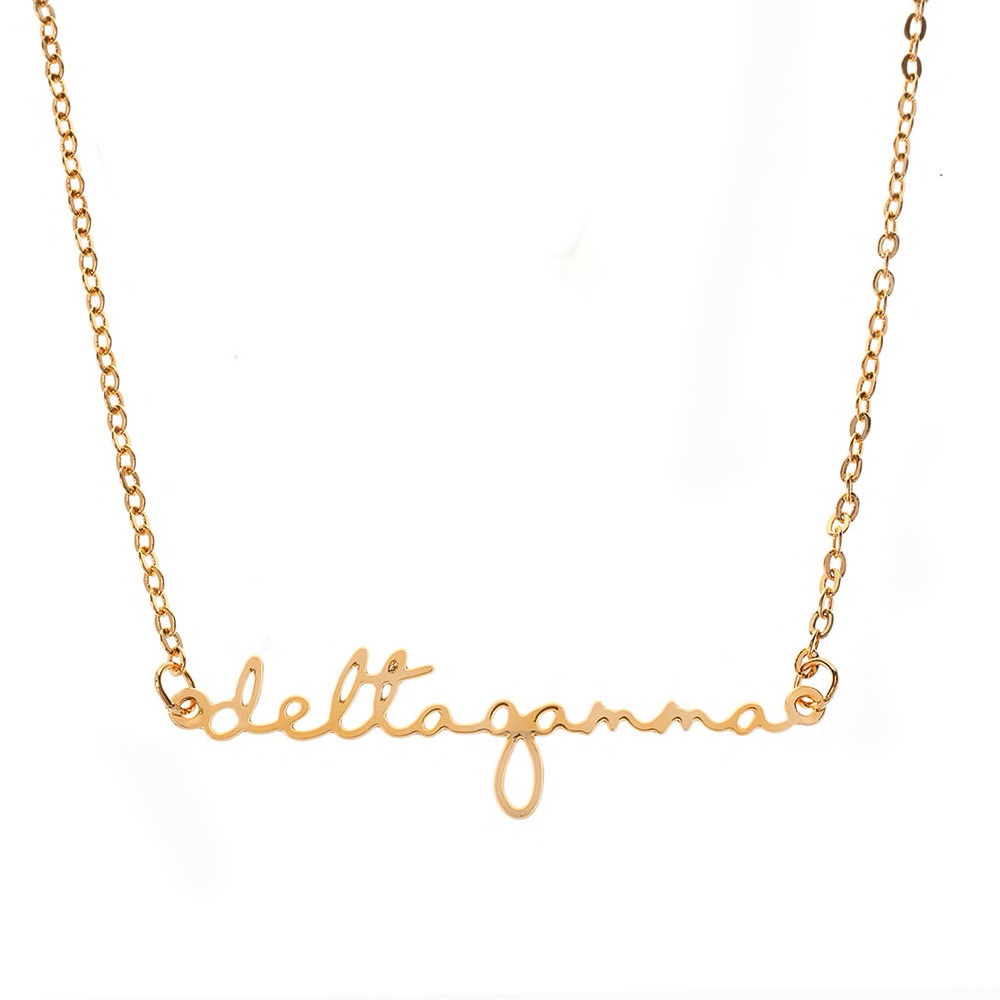 More fashion-forward than the classic Lavalier and a lifesaver if you don't know who your Little's going to be or her size. Plus it comes in silver or gold so there's something for everyone's taste.
Sriracha2Go
Spice up her life! If she loves her food hot, these cute keychain size bottles make carrying around her favorite sauce everywhere easy.
Customized Candy
Not only are these cute and thoughtful, it'll stop everyone else from stealing her candy! M&M's offer a ton of options; you could even do your sorority colors and letters.
Didn't see anything on the list that jumped out at you? We just added a whole new collection of clothing, accessories, and jewelry to Sorority Specialties. From Sorority tees to corded crews and athleisure wear, we have everything you need.
Now we've done the hard part for you, all that's left for you is to goshop! Have an amazing semester and time bonding with your Little. If you're looking for a custom order for your chapter, send us an email so we can discuss your specific needs and help you through the ordering process.